Tarot Crystal Candles
Free shipping on orders over £66
Vegan scents. Ethical crystals. Guilt-free.
Meet your new favourite candles.


Find out why we have over 500 five star reviews. Risk-free, with our 100% happiness guarantee.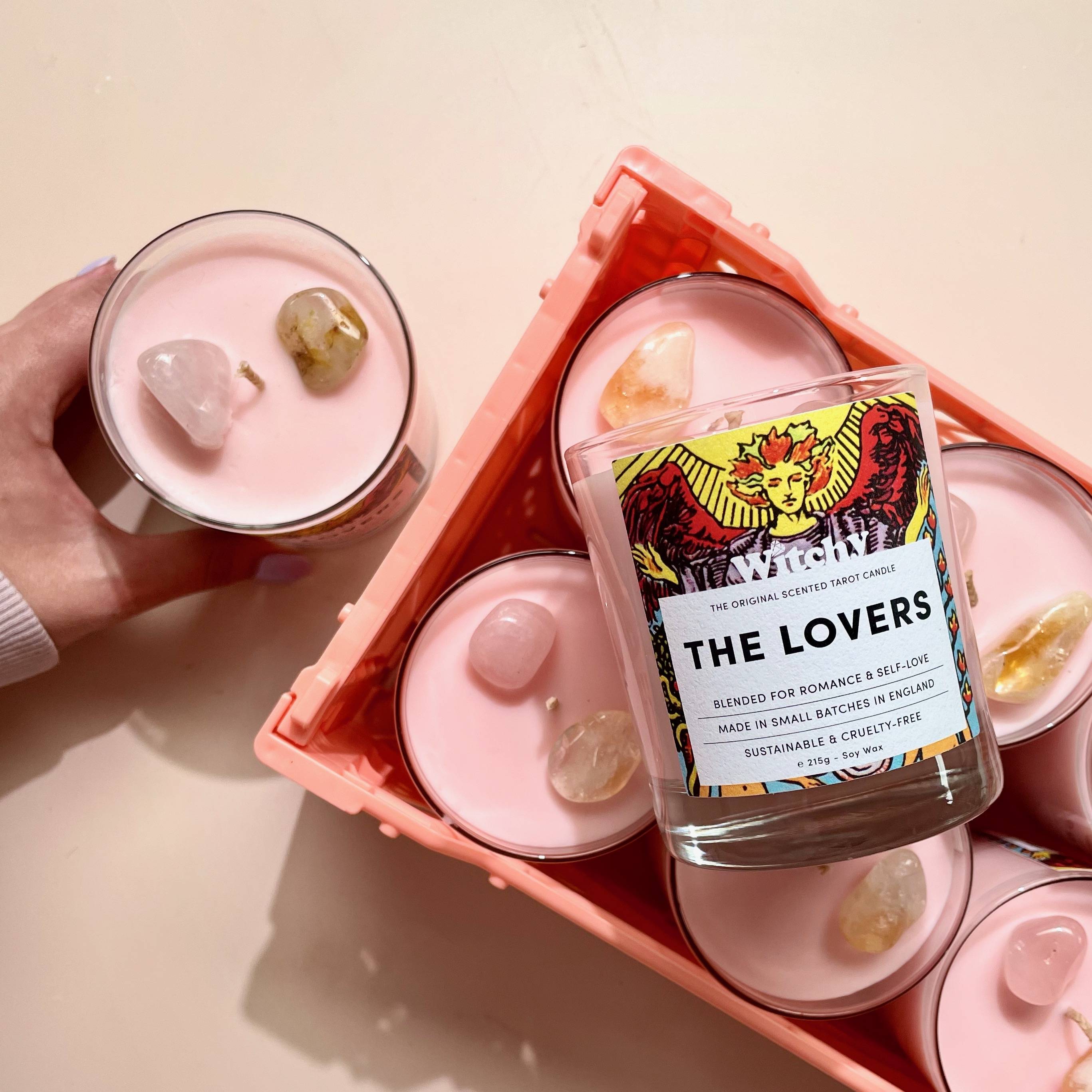 What will you love about Witchy Candles?

Made with British-made soya wax and perfume-grade fragrance oils.
GORGEOUS. EVEN WHEN NOT LIT.

Our candles are made to be a beautiful scented addition to your home, even when they aren't lit.
Each candle is topped with 2 crystals chosen to best channel each Tarot card's energy.
Made with British-sourced soya wax and perfume-grade fragrance oils.
Our candles are designed to stay in your life & home for a while!
Each candle is topped with 2 crystals chosen to best channel positive energies.
Say "hello" to your next favourite candle

With over 10 blends of gorgeous scent & colour,
you're sure to find something you love.
Free shipping over £66  ●  Guilt-free, easy returns ● 100% Happiness Guaranteed
These two are our most loved & ordered!

Listen to our 500+ 5 star reviews
You don't even have to be spiritual to enjoy Witchy...

"Smells absolutely divine, I have a little collection growing now!
I LOVE these candles!"
Ruthia
31 MAY 2021
"I ordered these 2 days ago and they arrived this morning, such quick delivery and they smell absolutely beautiful! I currently have The Sun going, lovely touch with the crystal too, I will definitely be ordering more!
Cheryl S.
18 JUNE 2021
"The Candle arrived well packaged and the quality of the candle and scent is stunning, cant wait to light it later. The precious stones are a special touch."
Gary S.
21 JUNE 2021
Got a question? We've got answers.
In the UK? Over £66, we'll pick up the cost of postage. 
Below that:
For Royal Mail 2nd Class - £3.44
For Royal Mail 1st Class - £3.95
For DHL Express Next Day - £13.42
Need to make a return? We make it easy.
Just send us an email detailing what you'd like to return and why, and we'll send you the return details. If your candle is faulty, we'll pay for postage, but otherwise we ask that you do.
We are committed to using the most sustainable, highest quality materials possible.
That's why we use British-made soy wax, vegan high-grade fragrance oils, lead-free cotton wicks, and high quality European glassware.
Compromise? You won't find that anywhere near a Witchy product.
If you need specific allergen information, please get in touch. We're fully compliant with CLP regulations and GMP.
First and foremost, our are candles made to be incredible candles. With every scent, colour, wax, and wick tested like there's no tomorrow.
They are focussed on each Tarot card we do.
For example, The Sun candle is yellow, and smells like summer. It's the card of positivity, so is topped with Citrine and White Howlite.
Our candles include two ethically-sourced crystals on top. These are chosen to match the Tarot card the candle is modelled after.
Finally, the hand-made candle is finished with a printed paper label, made from fine sustainable Italian paper.
You will find product specifics on each different product page, but the general details are:
Vegan & cruelty free
Contains 2 ethical crystals
Approx. 50 hours of burn time
100% soy wax, perfume grade fragrance & lead-free cotton wick
Designed, blended, and hand poured in Devon by the Witchy team